N2itive - Rear Adjustable Camber & Toe Arm Set - Tesla Model 3/Model Y

Sale
Vendor: N2itive
Type: Adjustable Control Arms
SKU: N2V.M3YKIT3CLR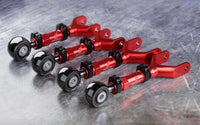 N2itive - Rear Adjustable Camber & Toe Arm Set - Tesla Model 3/Model Y
- Natrual Anodized
$777.00
N2itive's brand new ground breaking high pressure forged adjustable camber and toe arms are finally almost here!  We've designed these control arms to give you the freedom to dial in the ideal alignment for track or on the street to address the common inner tire wear issues that the Tesla Model 3 and Y are known for.  These are even more critical if you're planning to install these on a lowered Tesla or a high mileage Tesla.  Our adjustable camber and toe arms will allow you to add or remove rear toe to your liking.  Either for optimal track or street wheel alignment.  These are a much improved direct drop-in replacement for the original Tesla rear camber and toe arms and come preset to the length of the original non-adjustable arms.  Here we offer them as a combination kit containing a pair of rear camber arms and a pair of rear toe arms to give you all the adjustability you need.  All our products are made with the highest quality materials and craftsmanship for years of endurance and come with an unmatched 6-year to lifetime warranty!

N2itive is ecstatic to announce our newly developed high pressure forged rear adjustable camber and toe arms as a combination kit for the Tesla Model 3 and Y.  The only forged adjustable Tesla Model 3/Y camber and toe arms in the world!  As you've come to expect from N2itive, we're pushing the envelope even further this time in strength, quality, design and functionality.  Piggybacking on the incredible design and success of our original adjustable control arms, these new arms boast a host of improvements compared to anything available on the market today.
This design started with our brand new custom engineered one-piece forged rod ends with integrated weather sealed silent spherical bushings.  This maintains all the strength of our original rod ends but makes them lighter and keeps a lower profile since the bushing is now part of the rod end itself.  On the opposite end our clevis mount has been high pressure forged with an embedded high strength chromoly adjustment rod to ensure your arms never bend or break even under the most demanding circumstances.  The cylindrical center adjuster allows for super easy adjustment from any alignment shop which is securely stabilized by dual end clamps.  We don't use jam nuts in our designs.
Both our adjustable camber and toe arms allow you to dial in the ideal alignment with the least rolling resistance for improved tire wear to optimize the life of your tires and battery.  Alternately you can align your Model 3/Y for better handling performance on the track or somewhere in between.    N2itives adjustable camber and toe arm kit give you over 20x more adjustability over the factory toe eccentric bolt and finally allows you to adjust your previously non-adjustable camber.  Installation can be performed by the experienced home mechanic or from a local alignment shop that has experience with aftermarket control arms.  These parts will quickly pay for themselves in the cost of tires alone.  We can help you every step of the way, from selecting the right N2itive parts to finding an installer.  Just let us know.  We're here to help and get your Tesla aligned right.
N2itive's new adjustable rear camber and toe arms come in three variations.   We have a natural clear or red anodized surface finish which comes with a 6-year warranty.  These are high pressure forged, machined and heat treated using high strength 6061-T6 aluminum and 4041 electroless nickel plated chromoly.  Or you can take it up a notch to our full electroless nickel plated version which comes with a lifetime warranty, almost double the ultimate tensile strength 7075-T6 aluminum center adjuster and an incredible finish.  In addition to being substantially stronger, this version has an amazing bright black nickel plated finish for improved corrosion resistance and insane looks.  Either way you can't go wrong.  All versions are stronger than any other brand, including Tesla's own.  The price is per pair or set of two arms.  Contact us with questions. We're here for you!
Why Choose N2itive
At N2itive we give you the highest quality parts and craftsmanship at a reasonable price. Everything we create is meticulously well thought-out, precision engineered and FEA and real-world tested!  All of our components are custom made. Nothing is off the shelf. Take our spherical bushings for instance… made with high strength steel that's been electroless nickel plated for amazing wear and corrosion resistance. Each bushing incorporates a Teflon infused Delrin liner for a lifetime of trouble-free, maintenance-free use. You can count on us to only give you the best with all our parts and we back that up with a 6-year hassle-free warranty to the original purchaser. Our products are the strongest, safest and most durable aftermarket Tesla parts you can buy, guaranteed! Not to mention, they look incredible.
Suitable For All Tesla Model 3/Y Vehicles, including Performance

Made From The Best Materials: 4140 Chromoly, High Strength Forged & Heat Treated Aluminum, Strong Class 10.9 Bolts, Chemical Resistant Rubber and Silicone
Choice of Anodized or Electroless Nickel Plated Finish
Great Corrosion Resistance
6-Year Warranty on anodized finishes, Lifetime Warranty on Electroless Nickel Plated

Vehicles Supported
Tesla Model 3, including Performance
Tesla Model Y, including Performance