AST - 5200 Series 2-Way Adjustable Coilovers - BMW G8X M2/M3/M4

Sale
Vendor: AST
Type: Coilover Systems
SKU: ACS.B2112SD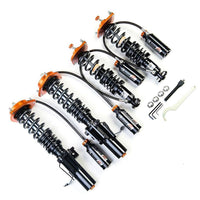 AST - 5200 Series 2-Way Adjustable Coilovers - BMW G8X M2/M3/M4
- 2WD
$6,270.00
You are that person who takes the performance of your car more serious? Our 5200 series are perfectly suitable for everyday use, but mostly designed for track use. Challenge your vehicle by adjusting the compression and rebound separately. Allowing you to experience sports car driving at its finest.

AST Suspension specializes in producing suspension components for vehicles serving regular street use and competition purposes such as race, rally, autocross, and more. The company has continuously evolved since its establishment in 2000 and has always taken pride in its work. By combining in-house design and production with technical know-how, industry experience, and road-and-track testing, AST Suspension consistently produces exceptional suspension components at a competitive price.
Features

2-Way Adjustable, separate rebound and compression adjustable with a remote reservoir. The positions give clear feedback with each adjustment, each offering a different driving experience
Remote reservoirs allow additional travel and heat displacement
Inverted strut design to cope with (heavy) side load and braking loads
Upside-down technology which allows the piston rod to be installed at the bottom of the shock tube body
In some cases the non inverted system is used
Improved handling and consistent performance due to Monotube technology
Provides greater damping power due to the larger surface area of the piston
Ride Height adjustable
Enhance ride height characteristics while still achieving your desired look
Lowering of approximately 25mm-60mm
Gas pressurized
Includes AST top mounts & camber plates. High quality & noise free
Includes springs. Custom spring rates are available
Includes Drop Links
Optional DLC Coated shafts
Optional DDP piston (double digressive)
Optional Drop Links
Optional Quick Disconnects
Upgradeable to 5300 Spec
Club Sport (5200 Series)
The 5200 Series are 2-way adjustable shock absorbers which are based upon competition 3-way adjustable shock absorbers. The 5200 shock absorbers are adjustable in compression and rebound. The design of the compression adjuster is an evolution of the compression adjuster we provided for the American Grand-Am series for the last few years. The 5200 shock absorbers were designed to achieve a quick and easy set up, allowing separate adjustment of compression and rebound.
In the 5200 Series AST uses an external canister. Throughout testing and competitions, the 5200 has been praised for its performance and capabilities, surpassing other major, more expensive brands and setting a new standard of 2 way damper. Its no surprise that the 5200 is fast becoming a favorite damper amongst race teams and track day enthusiasts world wide.

Vehicles Supported
BMW G87 M2
BMW G8X M3/M4, Including Competition