CSF - High Performance Heat Exchanger - BMW G8X M2/M3/M4

Sale
Vendor: CSF
Type: Heat Exchangers
SKU: CSF.8215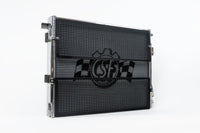 CSF - High Performance Heat Exchanger - BMW G8X M2/M3/M4
$699.00
Arguably one of the hottest German performance vehicles of the decade, the G8X M3/M4 has quickly become a favorite among enthusiasts and race teams alike. Like many BMWs, the S58 motor has some heat issues under heavy driving conditions when modified. CSF has been working tirelessly for the last year on a complete suite of industry leading cooling products for the G8X platform. Now, with over 9 months of development and testing, CSF is pleased to announce the release of its highly anticipated high-performance G8X M3/M4 Heat Exchanger for both 6-Speed Manual (6MT) & ZF8 Automatic Transmissions.

CSF has worked closely with race teams throughout North America throughout the prototyping and development process. The feedback gathered from daily driving, track days, and competitive drag racing events has lead to the best possible iteration of the Front Mount Heat Exchanger.
OEM Cooling Comes Up Short
When the new M3/M4 was released in late 2020, it didn't take long to see them hit the track. CSF's Engineers and Motorsports department was in attendance for some of the first track days. While in stock form, the G8X's factory cooling system does a decent job keeping up with the cooling demands. While this was true of the car in factory spec, those results changed when the cars were modified and started pushing more power. CSF quickly observed issues with heat soak in the charge-air system. This overheating of the intercooling system causes a spike in Intake Air Temperatures (IATs). Subsequently, the ECU started pulling timing which decreases power output. In extreme cases this can also send the car into limp mode. This problem became even more prevalent as testing continued into the hot summer months.
As with most performance vehicles, power adders were some of the first product to be release for the new G8X platform. Bolt-on upgrades, software tunes, and upgraded turbos are all great for speed, but start to create heat issues. Any time you add power to your car, you naturally increase the amount of heat the engine produces.
How Charge-Air Cooling System Works
CSF's industry-leading reputation and deep knowledge of high-performance BMW cooling systems allowed its engineers to immediately identify the cooling weak spots on the S58 engine. The engine is very similar to the B58 in the A90 Supra and G-Series BMW 40i models. Both feature a liquid-to-air charge cooler manifold paired with a front mount heat exchanger (water radiator). The Heat Exchanger cools the fluid cycling through the charge cooler, dissipating heat from the system. Because the charge cooler is built into the manifold, it's extremely expensive to replace with a high-performance unit. While CSF has developed a high-performance billet charge-air manifold for the S58 Motor (CSF #8233), the heat exchanger is still the most cost effective way to bring down charge-air temps. The Front Mount Heat Exchanger is responsible for removing heat from the chair-air cooling system and is now recommend as a critical bolt-on upgrade.

Design, Development, and Testing
With well over 100 track hours worth of testing and thousands of miles on the road, you can be assured that the CSF's new High-Performance Front Mount Heat Exchanger has been thoroughly tested and vetted.

The CSF Heat Exchanger features a 2-Row (vs OEM single row) Core that is 42mm thick with CSF's Exclusive B-Tube Technology. Increasing the size of the core and end tanks adds to the overall volume of the system which helps absorb more heat. The more efficient core not only helps dissipate more heat from the system, but also provides better airflow into the radiator that sits behind the heat exchanger. For vehicles equipped with the ZF8 Automatic Transmission, the heat exchanger core specifications were designed concurrently with CSF's new Race-Spec Dual Core Transmission Oil Cooler.

The two included Black Rock Guards offer full protection for the heat exchanger (above and below the crash bar), especially when paired with aftermarket "open face" race style grilles. These grilles have become quite popular for performance and aesthetics, and keeping your heat exchanger safe from debris is very important.

Future Upgrades: The Complete Power-Cooling Package
With the success of its B58 Cooling Program, CSF knew that the S58 would be the go-to engine for competitive motorsports for years to come. Planning ahead for future upgrades, CSF wanted to ensure the system was as efficient and reliable as possible. Ready for vehicles pushing 1000+ HP. Making a heat exchanger that is more efficient that the factory unit is fairly straightforward, but the engineering department wanted to ensure it went well beyond this benchmark knowing that an upgraded Charge-Air Manifold would be paired with many of these Heat Exchangers.

Specifications

Significantly Reduces Intake Air Temperatures (IATs) for Maximum Performance (with Faster Heat Soak Recovery)
Improves Air Flow to the Rest of the Cooling System for Lower Engine Coolant and Engine Oil Temperatures
2-Row, 42mm Ultra-High-Performance Core
6.5mm Tall Multi-Louvered Fin with CSF's Exclusive B-Tube Technology
CNC Machined Mounting Brackets and OEM Style "Quick Connect" Inlet/Outlet
100% All Aluminum TIG-Welded Construction
Includes Black Rock Guards (upper and lower) & Transmission Cooler Mounting Kit
Upper and Lower Rock Guards for Manual Transmission
Upper Rock Guard and Transmission Cooler Mounting Kit for ZF8 Auto
True Plug-and-Play "Drop-in Fit" Installation Requires Absolutely No Modifications
2-Year Limited Warranty
1-Hour "Mirror Finish" Hand Polish
Tested and Proven by CSF's Global Network of R&D Partners, Including Leading Time Attack Teams, Tuners, and Turbo Kit Manufacturers
Replaces BMW Part Numbers 17.11.8.095.283
Vehicles Supported
BMW G87 M2
BMW G8X M3/M4, including Competition

⚠️ WARNING TO OUR CALIFORNIAN CONSUMERS:
This product can expose you to chemicals known to the State of California to cause cancer or birth defects and reproductive harm. For more information go to: https://www.p65warnings.ca.gov/
Tab 3
Tab 4