Epic Motorsports - ECU Performance Software - BMW E46 M3/Z3M (S54)

Sale
Vendor: Epic Motorsports
Type: Flash Tunes
SKU: EMS.042006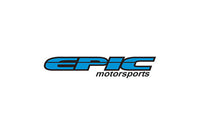 Epic Motorsports - ECU Performance Software - BMW E46 M3/Z3M (S54)
- No / Street / No
$599.00
EPIC Motorsports was founded in 2004 by Randy Mueller with the concept of maintaining a few key elements inherent to motorsports success. Winning six National Championships and playing an instrumental role assisting others obtain similar results proves that EPIC's success is not mere luck. Knowledge, precision, commitment, and teamwork drive EPIC's success.
The Epic Motorsports Engine Calibration Interface (ECI) was developed as a means to give BMW enthusiasts more control over their BMW's engine performance. With this specially designed ECI tool, you have the ability to install the full range of Epic performance software calibrations and/or return the vehicle to its factory calibration settings. The ECI also doubles as an OBD II scanner capable of reading and clearing DTCs (Diagnostic Trouble Codes). Your unique ECI tool plugs into your vehicle's OBD II port and into the USB port of your PC. With the user-friendly Epic Engine Calibration Interface PC software, you can read the existing factory (or aftermarket) programming from your vehicle's ECU.
After purchase of an Epic tune you email your current calibration data to Epic for an upgrade to one of the various Epic Motorsports calibrations optimized for the specific vehicle. You will then load your modified calibration file into the ECU using the same ECI tool.
Through custom ECU tuning we are able to provide more usable horsepower and torque outputs by modifying BMW's dual variable cam timing (VANOS), throttle tables, and fuel and  ignition maps. Better part-throttle drivability is also obtained. The vehicle's rev limiter will be raised to 8200 and the top speed governor will be removed. Custom software modifications for headers and disabling emissions control devices (off-road use only), alpha-n for carbon  intake plenums and/or camshafts can also be made. We can also add the SMG shift lights to your 6-speed car. Our Race software was developed through years of on-track data logging and dyno tuning to extract every last horsepower and remove all the common problems associated with running a S54 on the race track without compromising reliability. This software can be customized for stock or fully race built engines.
A build sheet will be emailed to you after purchase to get your vehicle info/build prior to tuning to confirm specific options and tune parameters.
Epic Motorsports Tune Levels
Street: For daily drivers or vehicles used on a public highway. Street tunes do not affect emissions calibration tables. Rev limiter raised to 8200. VANOS, fueling and timing changes provide considerable gains in full and part throttle compared to stock calibration. Consists of raised rev limiter and removal of speed limiter.

Race: Reserved for those with HFM, injector, aftermarket headers/race exhaust. Rev limiter raised to 8400. Race tunes are not intended for use on public road and are restricted to a racetrack only.

Standalone: For those using Motec or equivalent standalone engine management systems, includes removing EWS.
Custom Cams: For those with custom Schrick/Sunbelt Camshafts
Alpha-N: Alpha N is the term used by the DME manufacturers to describe a mode of operation. Most German vehicles are designed with an Air Flow Sensor (aka MAF) to provide optimal driveability and clean emissions control. Removing the MAF on most BMWs forces the DME to operate in Alpha N mode. Alpha N mode is not something that an aftermarket tuner has created. Alpha N mode is often regarded as a built-in safety mode for the engine should the MAF fail. This option is often used for those running CSL Carbon airboxes. 
Features
Raised Rev limiter (8200-8400 RPM)

Remove Speed Limiter
Changes in VANOS for optimum driveability and power delivery
Part throttle ignition and full throttle ignition optimization
Part fueling/full throttle fueling optimization
Activate SMG lights to 6MT Instrument Cluster (not applicable to all models)

Enhanced SMG Launch Control
SMG Flash Custom Gearing: Optimized for 3.91, 4.10, 4.45, or other custom gear ratios
Aftermarket Cams (Schrick or Sunbelt) & larger injectors
Larger HFM, headers or Aftermarket exhaust systems

Disable Misfire Detection
Delete EWS

You now have complete control of the calibration that is in your car, switchable from modified or stock at will. For those concerned with warranty, the factory calibration can be reinstalled before a trip to the dealer, leaving absolutely no trace of "tuning". After service/warranty work, you can reinstall your Epic Motorsports calibration. The Epic ECI is only available when purchasing an Epic calibration or for previous Epic calibration purchasers. ECI loads coded Epic files only. This tool provides an easy method to load and switch calibrations; it does not give you the ability to view and modify your own files. Epic ECI marries to the ECU of your car on installation, after which it cannot be used on another car.

Vehicles Supported
BMW E46 M3
BMW E36/37 Z3M (S54)