H&R - RSS Performance Coilover Kit - BMW E46 M3

Sale
$1,540.00

Regular price

$1,750.00
Vendor: H&R
Type: Coilover Systems
SKU: HRS.RSS1415.1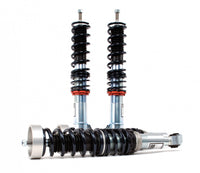 H&R - RSS Performance Coilover Kit - BMW E46 M3
$1,540.00
Recognizing a demand for premium suspension components tuned for the street—with race car features like adjustable lowering—H&R engineers rose to the challenge. Received in the market with great success, H&R Coil Overs feature an innovative mono-tube gas shock construction. Using premium quality materials, H&R engineers fine-tune each coil over shock with a progressive rate spring to ensure better handling and premium ride comfort.
Each vehicle specific coil over has a fully threaded, custom shock—allowing for adjustable vehicle height. Vehicle lowering is altered using easy to adjust spring seats. Adjustable lowering accommodates summer and winter conditions and allows you to dial in the perfect ride height to fit your personal style. H&R coil overs are designed for performance, comfort, and durability using only the best components. For those drivers looking for refined suspension and a little German style, look no further than our diverse range of coil over applications.

H&R RSS Coil Overs are designed and tested on the famous Nürburgring, and are for the performance minded driver that requires the most vehicle feedback. The result is flat cornering and supreme directional control—a perfect choice for the high performance driver. RSS Coil Overs lower the center of gravity and reduce body roll for better handling. Like all H&R coil overs, RSS Coil Overs feature an H&R exclusive dynamic damper technology and a fully threaded shock body—not an imitation sleeve-over.
Specifications
Approx Front Lowering: 1.2" to 2.3"
Approx Rear Lowering: 0.75" to 1.5"

Vehicles Supported
BMW E46 M3 Coupe
BMW E46 M3 Convertible