KW Suspensions - DDC ECU Coilover Suspension W-LAN Smartphone Module

Sale
Vendor: KW Suspensions
Type: Coilover Systems
SKU: KWS.68510276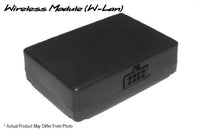 KW Suspensions - DDC ECU Coilover Suspension W-LAN Smartphone Module
$379.00
KW DDC App: The App for adaptive driving pleasure. Via the KW DDC button, the respective driving mode "Comfort", "Sport" or "Sport+" can be selected, and the adaptive KW DDC ECU coilover kit changes the damper setting within milliseconds. In Sport+ mode, the adaptive KW dampers give every car an unadulterated driving behavior. A setup which is ideal for demanding rides on twisty roads with lots of load changes. The Sport mode however, is perfect for driving on the highway with long curves; while the Comfort mode is the ideal for traveling on poorly developed country roads. In Comfort mode, the suspension adjusts automatically to the respective driving situation.
KW DDC App: The App for adaptive driving pleasure

If our adaptive complete retrofit solution is extended with a WLAN module, the suspension future is already today! With the App, the adaptive dampers of the KW DDC ECU coilover suspension can be adjusted continuously per axle to the personal driving style and load conditions. The App is compatible with smartphones and input devices from Apple (iOS) and many other devices with Android operating system and can be set intuitively from the maximum comfort ID with a very soft dampening (displayed in the App with 0%) up to the Sport+ damper setup (displayed in the App with 100%). Here, the KW DDC button changes the color matching the KW DDC App.


Menu Basic
Choice between the KW dampening modes "Comfort", "Sport" and "Sport+" - the two "Sport-modes" can also be assigned with individual settings via the ADVANCED menu.



Menu Advanced
Display of the selected damper force in real time. The continuously damper setting is carried out separately on the front and rear axle. As soon as the individual setup is configured within the vehicle-specific security specifications, it is forwarded to the dampers via the Transmit button and saved. By activating the feature "permanent Update", the changes are transmitted to the dampers in real time.
Menu Personal
Up to five individual damper setups can be stored in the App, saved, renamed and retrieved at any time as well as on request being shared by E-mail.

Menu Settings
Choice of different backgrounds as well as activation and deactivation of the start logo
Vehicles Supported
Compatible with BMW & Tesla vehicles already fitted with KW Suspensions ECU DDC Coilover System