KW Suspensions - HAS Height Adjustable Spring Kit - BMW F96 X6M

Sale
Vendor: KW Suspensions
Type: Height Adjustable Spring Kits
SKU: KWS.253200ED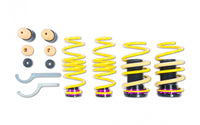 KW Suspensions - HAS Height Adjustable Spring Kit - BMW F96 X6M
$1,429.00
KW Height Adjustable Springs (HAS) Systems are a great alternative to conventional lowering springs. You no longer have to be satisfied with a fixed lowering height. KW HAS systems allow you to adjust the vehicle ride height with the KW height adjuster even after the kit has been installed. Your vehicle gets a more dynamic look with the KW height adjustable spring kit, and the steering behavior and response of the standard dampers become more agile. All driver assistance systems and comfort features of a factory adaptive or electronic suspension remain operational and work harmoniously with our vehicle-specific spring set up.



KW uses high-quality springs made of chrome-silicon steel with spring rates designed specifically for each respective OE suspension damper and wheel load. KW's expertise and engineering ensure the spring rates will pair perfectly with the different damper characteristics of your factory adaptive electronic suspension. Along with the use of high-quality materials and the included KW ride height adjustment mechanisms, our KW height adjustable spring kits always include the vehicle-specific bump stops with a dust protection system to protect your factory suspension against wear & tear caused by road grime and debris.
Similar to a coilover suspension, the KW height adjustable springs allow a continuous adjustable ride height within a tested range, something not possible with conventional lowering springs. The dust protection elements and spring perches included in the delivery, when applicable, are always adjusted to the maximum technically possible lowering, typically limited by the factory dampers. With KW height adjustable springs, a sporty driving behavior can be achieved without negative effects on driving dynamics of your BMW.

Individual height adjustment instead of fixed drop like conventional lowering springs
Front Lowering Range: 0.8" to 2.3"
Rear Lowering Range: 0.2" to 1.5"
Dial in ride height to your exact specifications
OEM adaptive damper control remains active
Vehicle-specific spring rates
Improved steering response
Aggressive appearance
Setup - Application and adjustment
The KW height adjustable spring kits are suitable for drivers who want to lower their car and have the advantage of an individual adjustment range.

KW Suspensions GmbH was founded in 1992 in Murrhardt Germany and has grown to become a leading suspension tuner for European and Japanese cars. KW suspension is developed thoroughly by KW's engineers to have an extremely long service life and create a balance between great handling and a comfortable ride quality. KW has equipped winning race teams for over a decade, and is a supplier to AMG as well as BMW in the M3 GTS. KW's facility is one of only 15 facilities worldwide to be equipped with a 7 post suspension test rig, giving regular M3 enthusiasts access to Formula 1 technology.

As with all KW suspension products, our engineers develop vehicle specific parameters and spring specifications which undergo comprehensive testing on the Nürburgring Nordschleife and in our KW 7-post Driving Dynamic Test Center. With a KW Height Adjustable Spring system, the driving experience is more dynamic and direct.

Vehicles Supported
BMW F96 X6M