ST Suspensions - ST X Coilover Kit - BMW E39 M5

Sale
Vendor: ST Suspensions
Type: Coilover Systems
SKU: STS.13220018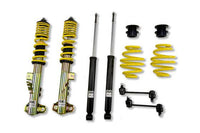 ST Suspensions - ST X Coilover Kit - BMW E39 M5
$1,379.00
Ready to ditch the wheel gap? ST coilovers feature a continuously threaded construction for height adjustment from moderate to maximum! Each coilover is manufactured in Germany by KW Automotive. Their expertise and know how ensures maximum quality and fantastic driving dynamics.
Once installed, the ST X coilover can be easily adjusted using a polyamide ring on the galvanized strut or with the vehicle specific height adjustment perch.
Improved driving dynamics and handling
Designed in conjunction with KW Germany, ST X coilovers deliver a sporty handling by reducing the car's bodyroll during compression as well as improving agility during spirited driving. The high-quality production of each ST X coilover includes a low-friction and pressure resistant housing alongside a chrome-plated piston rod for maximum longevity. A monoblock guide and ST multi-lip sealing package ensures the twin-tube dampers remain free of dirt particles in all weather conditions.
Features
Front Lowering: 1.4" to 2.6"
Rear Lowering: 0.8" to 2.0"
Fixed dampening/non-adjustable
Individual lowering within the tested adjustment range
Front and rear axle thread adjustment (when possible)
Galvanized coilover struts with additional coating for optimized corrosion protection
Complete solution with adjustable spring perch, multi-coated spring system and dynamic elastomer bump stops with dust protection
Powerful twin-tube dampers with high-quality components for maximum longevity
Backed by ST suspension's 5 Year Unlimited Mileage Warranty
Galvanized steel struts, low friction materials with layers of protection
Galvanized zinc coated steel struts optimize corrosion protection for long lasting use. We add a dust protection system to prevent unwanted dirt and particulate from coming in contact with the hardened chrome piston rod or getting into the valve packs. We reinforce the system with a multi-layered pressure resistant sealing package, mono block guide system and a low friction piston band which works inside the pressure resistant internal damper housing.
Unique Features
The high quality ST X Coilovers have numerous unique features that provide unparalleled value and a long lasting durability.

Composite Spring Perches
Two-Piece Racing Spring System
Dust Protection and Weather-Resistant
KW Quality – exclusively for ST suspensions
The ST suspensions coilovers benefit from our many years of experience in the development and production of suspension components for motorsport and the street. Each damper is hand assembled specifically for your order and put through rigorous quality control testing before being placed in your box for delivery.
Vehicles Supported
BMW E39 M5